...3 Epis ..................

............. Retour Version Française

WELCOME TO
THE HOME OF
Odile & Jean Paul
The Limousin region, a land of welcome (and a place to stop and spend some time) gives you the possibility to stay in guest houses. Odile & Jean Paul own a 17th century house in the heart of the old town of Bellac. Don't be deceived by the rather ordinary plain facade,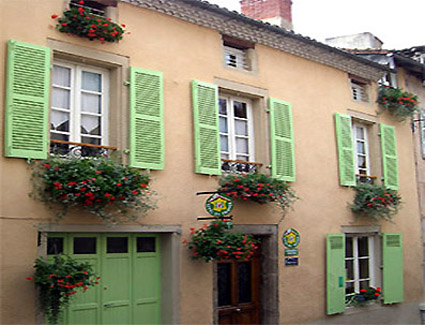 you have to enter in order to penetrate the secrecy of these mysterious houses, and discover that life is behind the front door and especially in the garden.
A convivial atmosphere is waiting for you, your breakfast together, every morning, all those who wish to exchange impressions about their holidays, or who want to know the region better. You may leave your vehicle in a private and closed car-park.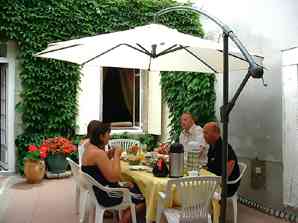 ..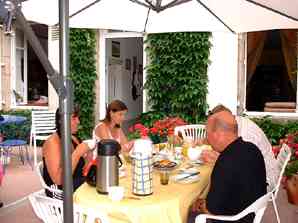 Family breakfast as the sun rises
Where ? Prices ? Contact ? ...
What can one do in Bellac ?

The discovery of a history-laden town whose story unfolds through its monuments :
- The "Eglise Notre Dame" (Church of Our Lady) which encloses a 12th century shrine
( renferme une châsse du XIIème siècle )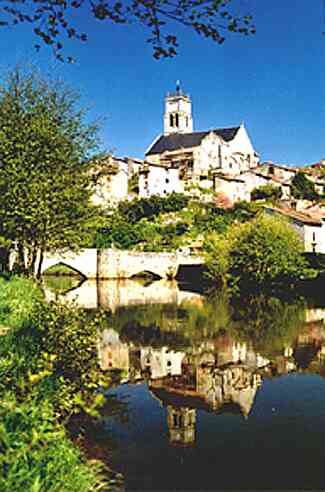 BELLAC Vue générale côté "Vincou"
© Photo Marcel Hommeau 1995
- Historic 15th-18th century houses
- Picturesque alleys and old parts of the town, banks of the river Vincou
- Living Museum of Leather Tanning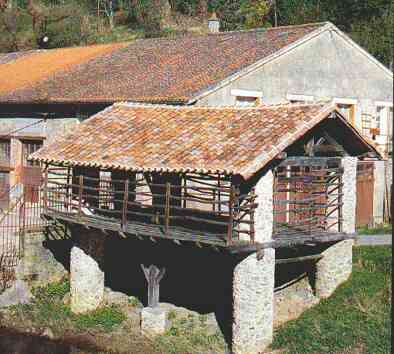 Ancien séchoir à peaux
© Photo Marcel Hommeau
- Jean Giraudoux Museum (20th century writer, born in Bellac) ...
The discovery of a dynamic and modern town :
- Festival Jean Giraudoux (June-July)
- Numerous cultural events all through the year
- Large sports facilities (stadiums, gymnasiums, tennis courts, etc. ...) which allow you to practise your favourite sports all year round. Karaté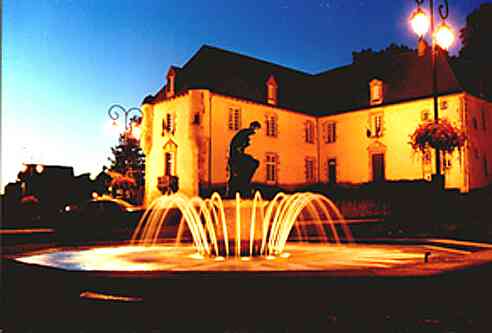 La Mairie
© Photo Marcel Hommeau
- Aquatic Centre, which besides swimming, offers the possibility of many games : large 25m pool, learning space with paddling pool, 8-shaped slide 42m long, a 4-lane 20 m "pentagliss",counter-current swimming lane, etc...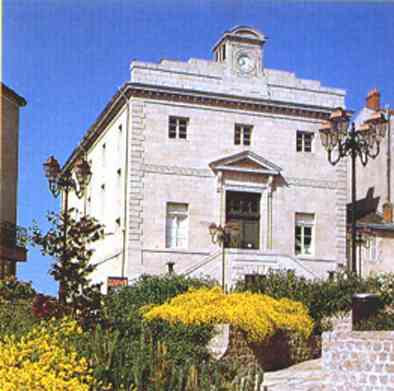 Le Palais de Justice
© Photo Marcel Hommeau
Around Bellac, the Blond hills, spur of the Massif Central mountains, frontier between the ancient "Oïl" and "Oc" languages, between the lands of written law and traditional law, have kept their wild and harsh nature.
Trekking in these hills is to rub shoulders with deer and fairies by the ageless megaliths, the granite moraines and the legends, along the mossy but signposted paths bordered with small dry stone walls.
A thousand springs abound in brooklets and small rivers; the many ponds sparkle at the bend of a path or a hedge.
All tastes are catered for : rest, trekking (by foot or by horse), angling in running water or in still ponds, mountain biking ... the air and water are pure.
Bellac est jumelée avec Wassertrüdingen (moyenne Franconie) depuis mai 1983.

Bellac -More information on Bellac :

Our leisure activities
and favourite past-times.
Odile is a very keen painter ...

She enjoys painting local landscapes in all seasons.
.
Oil or watercolour according to her whim.
Odile loves walking in the Blond hills, looking for mushrooms, and she sketches the landscapes that she will later paint at home.
Si vous aimez la peinture, un site à ne pas manquer, celui d'Aimé Vallat, Peintre Bellachon

Copyright © 1997 JPF
Dernière modification : 24-Oct-2007