| | | |
| --- | --- | --- |
| | Bellac en Limousin | |

Today 's weather forcast :
What can you do in Bellac ?



The origin of the word « Bellac » was never clearly determined, nevertheless
The word Bellac may mean place of war, locus belli : or , deriving from Celtic, high place
or place crossed by beautiful waters

*(D'après "Histoire de la ville de Bellac" de l'Abbé Roy-Pierrefitte édition de 1851)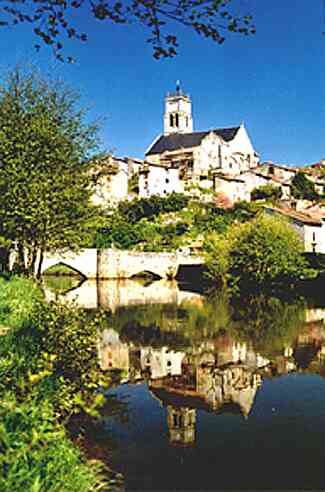 BELLAC Vue générale côté "Vincou"
© Photo Marcel Hommeau 1995
discovery of a town heavy with history whose story is told by its monuments :
Notre Dame Church which contains a 12th century shrine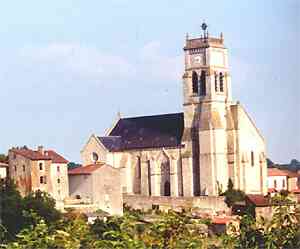 Eglise Notre-Dame © Photo Marcel Hommeau
- Ancient 15th-18th century houses
- Picturesque alleys and areas of the town, banks of the river Vincou
- Living Museum of Leather Tanning
- Jean Giraudoux Museum (20th century writer, born in Bellac) ...open every day from 2.30 pm to 5.30 pm except on Tuesday

...........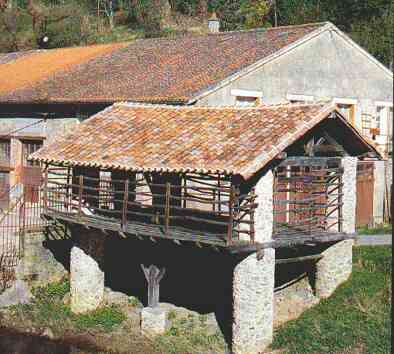 Ancien séchoir à peaux
© Photo Marcel Hommeau

discovery of a dynamic and modern town :
- Bellac: lamb town :
- May: Spring forum on sheep guetics
- June: Lamb festival
- on 1st Thursday of September: national fair of ovine breeders (the most importante in france)
- Every other year (1st Thursday and Friday of September): "salon tech-ovin" (Tech-ovine trade fair) :
- Numerous cultural and sports events along all the year :
- Jean Giraudoux Festival (June-July)
- Cloître theatre : government- regulated theatre. More details on the website of the theatre : click here
- Large sports facilities (stadiums, gymnasiums, tennis courts, etc. ...) which allow you to practice your favourite sports all year round.. Karaté
- A lot of associations : Lions' club, Rotary, Welcome in Bellac , various charities, stamp collecting, pigeon fancying clubs...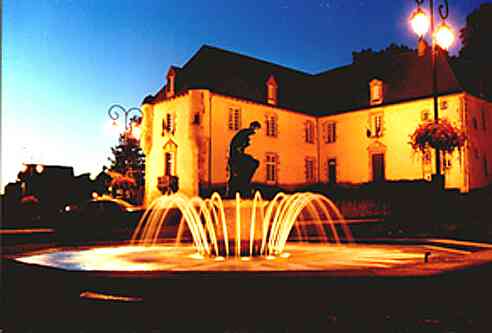 The town council ( faire glisser la flèche sur et hors photo pour changer l'image)
© Photos Marcel Hommeau
- Two star Camping site « deux étoiles , totally renovated and conform to standards, accessible to disabled persons, with a specific place for campers.
- Aquatic Centre, which, besides swimming, offers the possibility of many games : large 25m pool,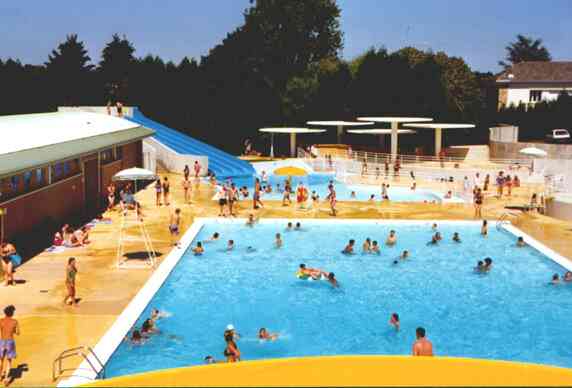 learning space with paddling pool, 8-shaped slide 42m long, a 4-lane 20 m "pentagliss",counter-flow swimming lane, etc...

cinema in Bellac : programme, performances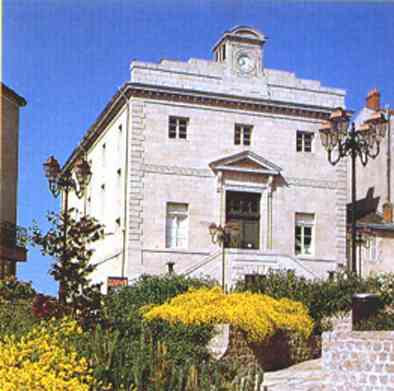 law courts
© Photo Marcel Hommeau

Around Bellac, the Blond hills, foothills of Massif Central, linguistic boundary between the ancient "Oïl" and "Oc" languages, between the lands of written rights and customary rights, have kept their wild and harsh nature. Trekking in these hills is mixing with deer and fairies by ageless megaliths, granite moraines and legends, along the mossy (but signposted) paths bordered with low walls of piled stones.
A thousand springs abound in brooklets and small rivers; the many ponds sparkle at the bend of a path or a hedge.
All tastes are catered for: resting, trekking (by foot or by horse), angling in running water or in still ponds, mountain biking ...

should you like walking :
Every Tuesday and Friday morning : hiking and discovering of the Monts de Blonds, the Gartempe, Lake of saint Pardoux…appointment at 8.30 am in front of the Tourist Office of Bellac (in front of the fairground) Return at nearly 12.00. The programme will be available at the Haut Limousin Tourist office. Information at the following number: 0055681279 . Organized by Bellac Tourism and patrimony and the Tourist Office.
Every Tuesday and Friday on the afertoon at 2.00 pm , meeting at Bellac fairground (place du 138 e RI). 2 or 3 hours unsupervised hikes. Possible car sharing.( N.B : Each person walk under their own responsibility)
Every third Saturday of the month : a hike is organized by Famille Rurale. Departure: 2.00 pm in front of the charity premises (14 street Saint Exupéry) The route is published in the press each month. A 1.50 € snack will be available after the hike
and further hikes, under different forms.
information about all the activities and events at the Haut Limousin Tourist Office
air and water are pure :
Limousin is one of the French areas where the degradation of the quality of air and water is the lowest* *Diagnostic environnemental du Limousin BCEOM étude de juillet 99.
juillet 99.
map of Bellac made on 11th november 1646 after extension of the fortifications.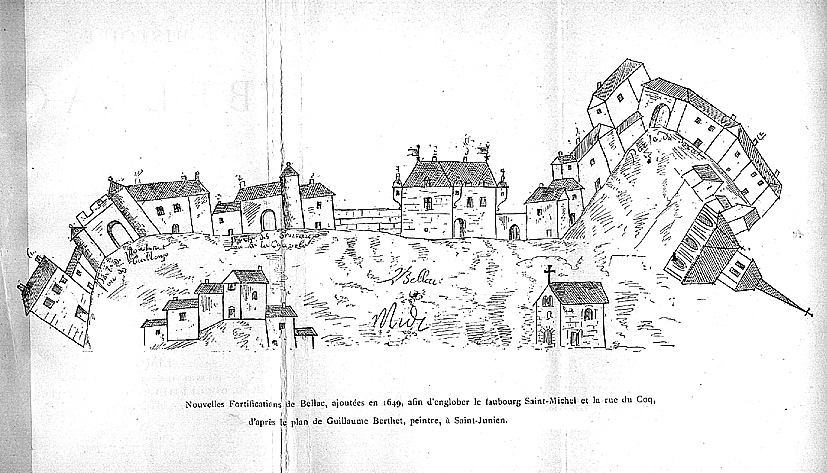 Copyright © 1997 JPF
Webmaster
Dernière modification : 18-Nov-2016